Spanky's family of Jack Russell Terriers, hanging out at home - pictured left
Yes... our puppies will ride with you anywhere!
Abby - Clancy x Winston pup - pictured right
Current available puppies: JRT Puppies for sale

Chloe - JRT Female
AKC & UKC registered Jack Russell Terriers
Below are a few of our favorite Jack Russell puppy pictures from over the years - see galleries for more.
See the JRT Puppies page for pups who are looking for LOVING HOMES and LIFELONG FRIENDS now.

Puppies are UKC & AKC registered as a litter. Individual registration available.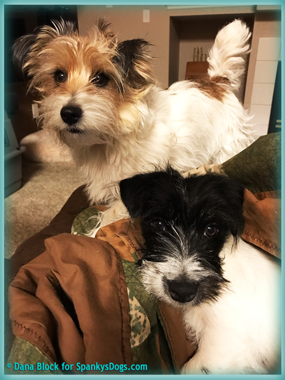 Hattie & Joey, Westminster, CO
What our New JRT Puppy Owners Say...
References & Testimonials
"Luann is an exceptional breeder. Her dogs are her family, and they are cared for and loved like family. Every one of her dogs is well socialized, friendly, happy and most of all - loved. She knows every dog's personality and pedigree and puts a priority..." read more
Reserve your
Jack Russell Terrier puppy today!
LuAnn Wallace
PO Box 571
Collbran, Colorado 81624
Now located in Mesa, CO
970-270-6866 - cell
Please do NOT send text messages.

Spankys-Dogs
Spanky's Story - a Jack Russell Tale
All of my life I've had pets - horses, dogs, and the list goes on. Even so, my life changed when I met Spanky. This furry little jack russell terrier with a wagging tail and smile on his face won my affection and became the shortie shadow at my feet.
Spanky's Human: LuAnn

970-270-6866 - cell

See Spanky's Dogs on:
AKC - American Kennel Club