Spanky's Story - a Jack Russell Tale
Page 5 "The End"
And just like these JRT tails are wagging when the dogs see me coming home, your new jack russell terrier puppy is anxiously waiting to meet you! Whether you live in Colorado or another state, we can make arrangements to get your new puppy to you.
Just contact me online or give me a call: 970-270-6866.
Please do NOT send text messages.

Home

Page 2

Page 3

Page 4


>

Well maybe not quite "The End"...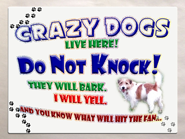 There's always more each day with Spanky's crew...
You know what they say about pictures and words...

SHOP JRT shirts and signs featuring Spanky's Gus and Chloe Posing as MODELS!
See Spanky's Dogs on Facebook
View Spanky's Colorado Jack Russell Terrier photo galleries.

Check out our new testimonials page.
Share your story about your Spanky's Dogs jack russell terrier or boston terrier puppy.
---
What our New JRT Puppy Owners Say...
About Hattie and Joey
"Luann is an exceptional breeder. Her dogs are her family, and they are cared for and loved like family. Every one of her dogs is well socialized, friendly, happy and most of all - loved. She knows every dog's personality and pedigree and puts a priority on raising happy, healthy dogs. I first met Luann when I went with a friend to pick up a puppy she was getting from her. She had a couple of her older dogs with her and I fell in love with them at first sight. They were wonderful dogs, and I was impressed. So, a few months later when we were looking for a puppy, I contacted Luann.
More
About Summit and Jackson
"When we began contemplating getting a second dog to keep our older but active Parsons Terrier company, we did a lot of research trying to weight the option best fitted for our family...we found it. We have received not one, but two, amazing puppies from Spanky's (both Gus and Gracie puppies, different litters, one short hair, one long hair) and could not be more thrilled with both our experience at Spanky's and our new family members. The owner, Luann's, time, attention and dedication to not only all of the puppies under her roof, but her older dogs as well, is unmatched and it reflects so positively in both our puppies personalities and temperaments.
More
---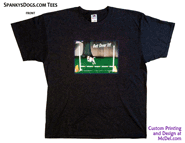 Training your Jack Russell Terrier - or any other breed of dog... Work and Play
See the results of agility training on our home page or JRT Moms page.
Shop JRT Shirts and Signs featuring Spanky's Gus and Chloe Posing as MODELS!
Reserve your
Jack Russell Terrier puppy today!
LuAnn Wallace
PO Box 44
Mesa, Colorado 81643
970-270-6866 - cell
Please do NOT send text messages.

Spanky's Human: LuAnn

970-270-6866 - cell
Please do NOT send text messages.

See Spanky's Dogs on:
AKC - American Kennel Club - A premier online destination for finding puppies for sale of AKC recognized, rare and mixed breeds. Offers a comprehensive online directory of dog breeders, stud service providers, dog related products and services, dog friendly hotels and airlines, and many useful tools and resources for finding and raising a puppy.