Introducing...
(drum roll, please)
Holly's B B at Spankys
Boston Terrier Female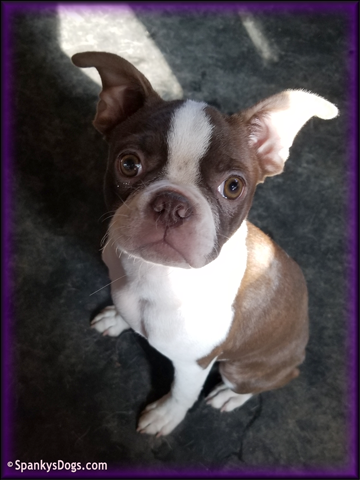 Here's Holly (r) with Rizzo (l) in October 2008
More about Boston Terriers at AKC

B B is an up-and-coming Female Boston Terrier
in Mesa Colorado - SpankysDogs.com
All of our Boston Terriers are AKC registered
It will be several months before she goes to meet any boys and pick her beau!
Starting in mid-to-late 2021, Spanky's Dogs will be offering Boston Terrier puppies for sale.
B B > Boston Terrier Female at Spanky's Dogs
Holly's B B at Spankys (aka B B)

---
Keep up with B B's antics on Facebook!
---
Check the puppy page to see when Puppies will be available.
Check-out our new testimonials page
Share your story about your Spanky's Dogs jack russell terrier puppy.
Reserve your
Jack Russell Terrier puppy today!
LuAnn Wallace
PO Box 571
Collbran, Colorado 81624
Now located in Mesa, CO
970-270-6866 - cell
Please do NOT send text messages.