Jack Russell Terriers at Work and Play
If you want a FABULOUS place to train your Jack Russell Terrier - or any other breed of dog...
Brenda Cronk is amazing! She owns Tip Top Dogs in Mack Colorado, and provides both in-person and online dog training. As a CPCFT (Certified Professional Canine Fitness Trainer), she has extensive knowledge and experience that will help you keep your dog in great shape as well as help you train for precision in competitions. When you check out her websites - TipTopDogsFitness.com and RallyA2Z.com, you'll see Piper, who came from Spanky's Dogs.


You need to meet Teri Thomas! She provides dog training, both in Grand Junction Colorado and via Skype. Teri has training classes for puppies and older dogs, as well as therapy dog training. "We believe in the human-animal bond and that every dog, like every person, has a purpose." Learn more at her website: Angels in the Making


You'll also want to meet Suzanne too! Her website is Trace Your Path Agility, and she is located in Fruita, CO. As a dog agility training center, training is available for dogs and handlers competing in beginning to advanced level agility.

See the results of home page or JRT Moms page.
agility training on our
---
Spanky's Jack Russell Terriers as Models
"Agility Ability" Tee with Chloe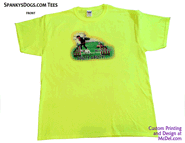 Order Spanky's Dogs T-Shirts online at McDel, featuring Gus and Chloe. Several color choices for t-shirt.
"Get Over It" Hoodie - Gus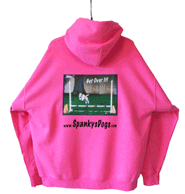 Order any color hoodie and list "Get Over It" or "Agility Ability" as the style.
"Get Over It" Tees with Gus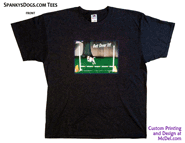 Order Spanky's Dogs T-Shirts (several colors for tees) online at McDel, featuring Gus and Chloe.
Family & Friends' Websites

McDel Gifts & Gear Co. offers custom photo/logo gear/gifts - hoodies, hats, shirts, bumper stickers, banners, signs, keychains, mugs & more! Give your friends, family, staff, co-workers, and customers items that are a walking advertisement for your business! Individual custom photo gifts, gear, and home decor also available.

McDel Publishing - for businesses and organizations, McDel offers custom websites designed in Grand Junction CO, but serving clients throughout the USA. Custom graphics, multimedia presentations, SEO- and UX-focused content management and marketing services are also available.
Luann is the founder of the Plateau Valley Saddle-Series Gymkhanas - 3 are held each summer in Mesa CO at the PV Rodeo Grounds. After putting on the gymkhanas for over a decade, Luann trained and turned over the project to the PV FFA 2017-2018.

See upcoming events in Mesa, Molina, and Mesa Colorado at ThePlateauValley.com
Spanky's JRT Puppy Photo Galleries
Spanky's Human: LuAnn

970-270-6866 - cell
Please do NOT send text messages.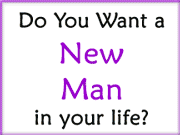 Current Puppies for Sale
Reserve your
Jack Russell Terrier puppy today!
LuAnn Wallace
PO Box 44
Mesa, Colorado 81643

970-270-6866 - cell
Please do NOT send text messages.